What You Should Do When Your Apple Pencil is Not Working
Apple Pencil is an iPad tool that makes writing, drawing, and sketching on the iPad precise and easy. With iPadOS 14, users can use this stylus to write in the address bar, search for destination, locations, events, and much more with great convenience. In most times, your Apple Pencil will be a reliable tool to improve your experiment with the iPad. However, in some cases, you may find your Apple Pencil does not work or suddenly stop working. Surely it will be annoying and frustrating. So what should you do when your Apple Pencil is not working? Here are our tips to help you fix this issue.
Check if Your iPad Support Apple Pencil
You need to make sure that both the Apple Pencil and the iPad are compatible with each other. This is the core factor to make this tool work well on your iPad. There are two different versions of the Apple Pencil: Generation 1 and Generation 2. Each version will support specific types of iPad. 
The Generation 1 version is compatible with:
iPad Air (3rd generation)

iPad Mini (5th generation)

iPad (6th generation)

iPad 10.2-inch(7th generation)

iPad Pro 12.9-inch (2nd generation)

iPad Pro 12.9-inch (1st generation)
iPad Pro 10.5 inch
iPad Pro 9.7-inch
The Generation 2 version is compatible with:
iPad Pro 12,9 inch (3rd generation)

iPad Pro 11 inch
So you should check carefully to make sure that your iPad supports the right Apple Pencil version.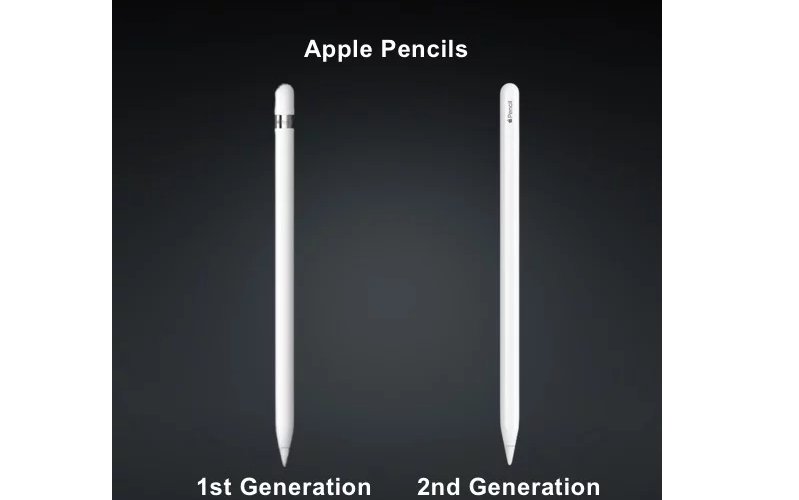 Check The Nib
In some cases, your Apple Pencil nib is the root of your issue. If you notice that the nib seems loose, gently rotate the pen clockwise so you can tighten it. If the nib seems worn out, replace it with a new one that came in the Apple Pencil box. To replace the nib, gently remove it in an anticlockwise direction, place the new nib in, and tighten it by rotating clockwise. It doesn't take much effort, and you should never apply too much pressure.
Make Sure That Your Apple Pencil Is Charged
When using Apple Pencil, make sure that it has enough battery to meet your usage needs. To check its battery status,  Pull down Notification Center on your iPad and look for your Apple Pencil under Batteries. If your stylus battery is entirely run out or you haven't used it for a while, it may take up to ten minutes for your stylus to properly charge and appear in Notification Center.  So don't panic if you don't see your Apple Pencil in Batteries immediately, just let it charge.
Make Sure Bluetooth is turned ON
To use Apple Pencil on an iPad requires your device's Bluetooth enabled. To do that, open the Settings on your iPad and make sure the toggle for Bluetooth is turned on. Next, tap on it to see if the stylus is connected.
Reboot Your iPad
This is the most commonly used way to fix the problem that Apple pencil was not working. Because rebooting iPad is an easy way to recover connection problems. To do so, either use the buttons combination or go to Settings → select General → press Disable. After a few minutes, turn the device back on and the Apple Pencil should work normally.
Re-pair Your Apple Pencils with Your iPad
Let your iPad forget about the Apple Pencils and pair them again is also a good try. To do this, you should do the following steps:
Go to Settings on your iPad and select Bluetooth. Here you will see the names of the devices that paired with your iPad

Tap the "i" symbol next to Apple Pencil

Tap Forget this device → Forget device. This will unpair your devices

Now you can start paring your  Apple Pencil and iPad again

For the first-generation version, remove the cover and plug it into the iPad's Lightning port. You will see a notification pop up on your iPad. tap Pair to complete the process.

For the 2nd generation version, attach it to the magnetic connector on the side of the iPad.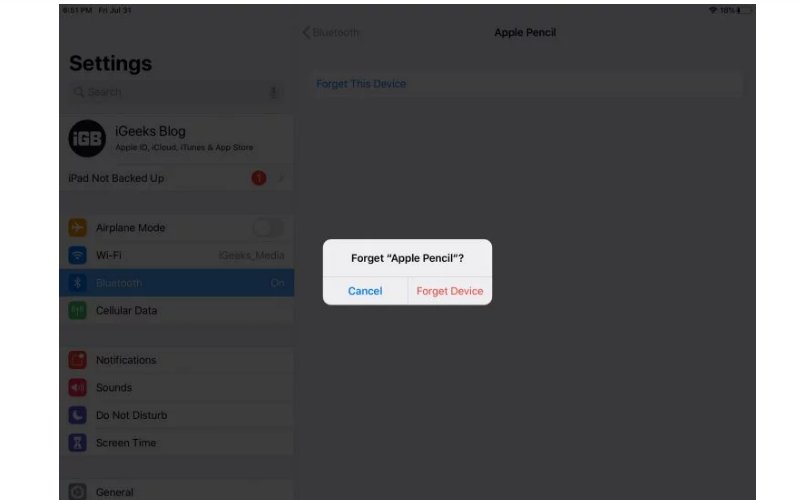 Check If Your Applications Support Apple Pencil
In some cases, your Apple Pencil may not work simply because the apps you are using does not support it. Commonly, Apple's Note app and other note-taking apps from no well-known developers are compatible with Apple Pencil. However, there are certain apps that won't allow you to use a stylus. Most apps mention it in the app descriptions. In addition,  Apple regularly recommends apps that work well with the stylus in the App Store. If you can not pair your stylus with your iPad,  try checking which apps support this kind of tool in the App Store on iPad. In case of uncertainty, you can contact the app developer to ask them if their app works with the Apple Pencil.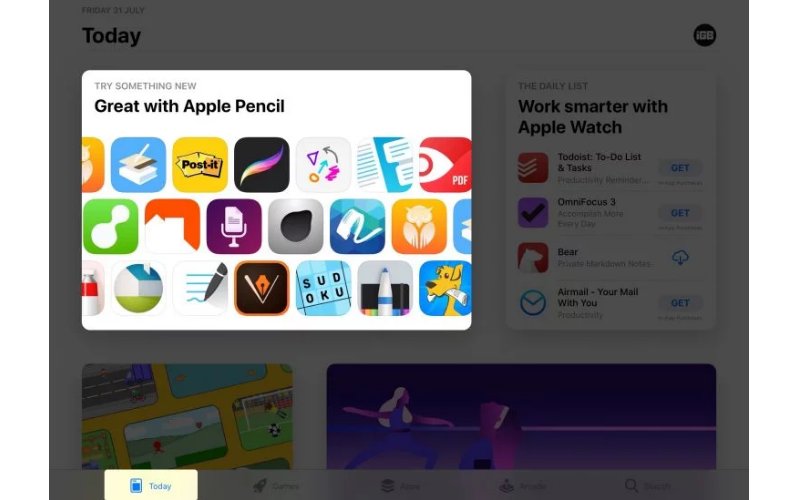 Contact Apple Support
If none of the above methods helps you to fix the Apple Pencil issue, you should try to contact Apple Support. If the issue is caused by Apple, you will receive the warranty. Depending on the circumstances, you can even get a free replacement.
There you go, now you know what to do when your Apple Pencil is not working. Do you find this article helpful? We'd love to hear from you in the comments!